Description
Highlight
PLEASE DO PM ORIGINAL / AROMATHERAPY/ STRONG
Ready Stock in Malaysia
Product 100% Original. Asli
Imported from Indonesia.
HOT SALES ITEM!
Product are limited. While stock last.. Until restock.
Cuba sekali, pasti puas Hati!
HOT IN CREAM adalah krim analgesik untuk meredakan penat, pegal, sakit otot dan sakit sendi.
Tidak Meleket dan mudah meresap, panas yang memberikan rasa nyaman dan relaks maksimal
Mengandung bahan alami seperti minyak sireh, gandapura, menthol, dan minyak pinus sehingga aman digunakan sehari-hari.
HOTIN CREAM, panasnya pas, HOT-nya IN sampai ke dalam.
Treat al sports injuries. relieves pain and enhance your body's to receover and heal daster
HARDERS WORKOUTS RECOVERYFASTER : Reduce injuries to joints and muscle tissue so you can have safer harder workouts and a faster recovery
REDUCE HELP OF PAIN PILLS : by reducing of your body's occurence of injuries when usedbefore and after, oral pain killer use can be reduced.
USE BEFORE AND AFTER WORKOUTS OR ANY ACTIVITIES : support you staying active and enjoy the life at it best by supporting your body and preventing injuries
-For symptomatic relief from joint pains , inflammation ,backache, sprains, myositis, fibrositis, lumbago.
- Apply appropriate amount of the cream on the affected area, massage until totally absorbed
-
Helps Relieve Pain From:

Sore muscles and muscle sprains, back, shoulder, neck pain, arthritis, painful ankle, knee, hip and elbow joints, muscular strains, tendonitis, bursitis, plantar fasciitis

Caution:

1. Don't use the cream on broken skin or wound; Keep away from the eyes and sensitive areas.
2. Only for external use.
3. If you feel uncomfortable during use, please stop using right away; If need, please go to see doctor.
4. Suitable for children above 6 years; Please kkeep out of reach of children.
Non-sticky
Fast absoption
Giving warm feeling deep penetrating into the muscle.
Felt relaxes after use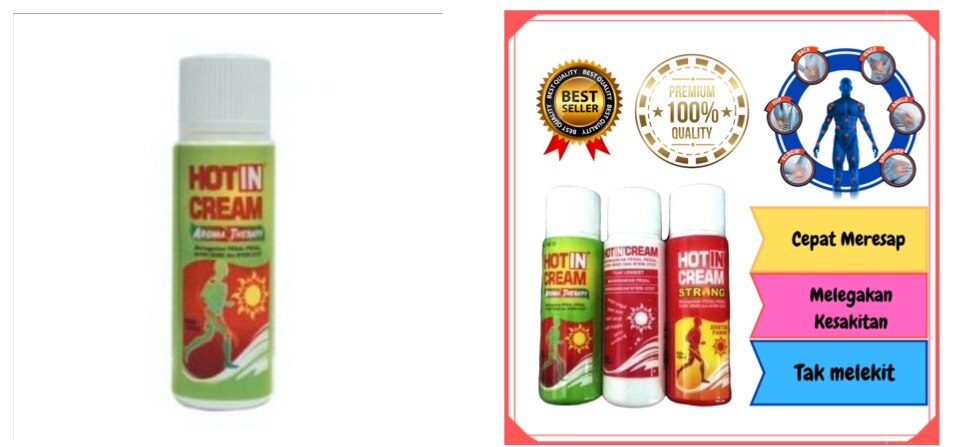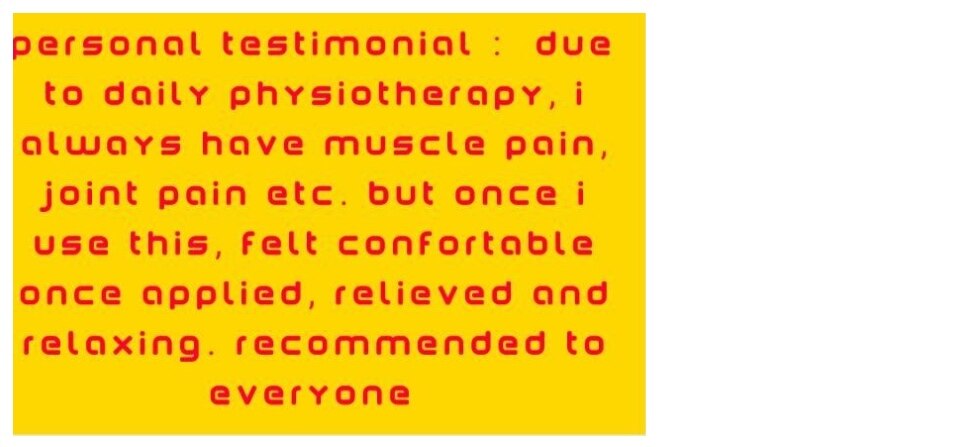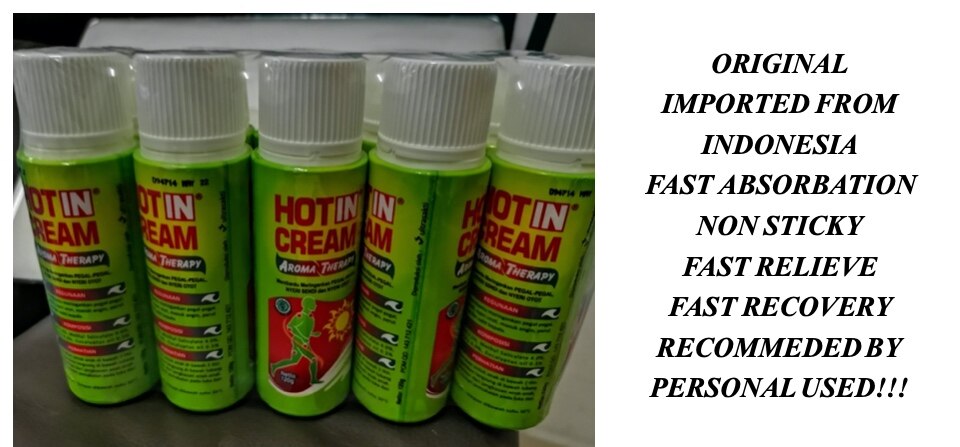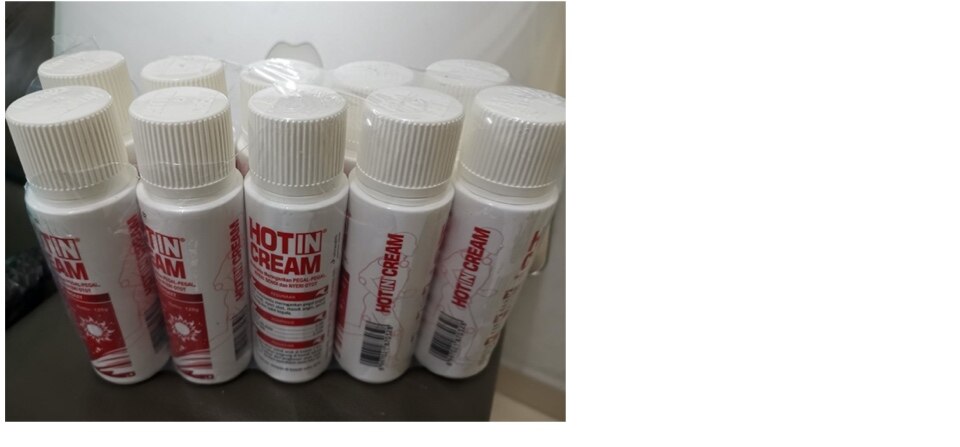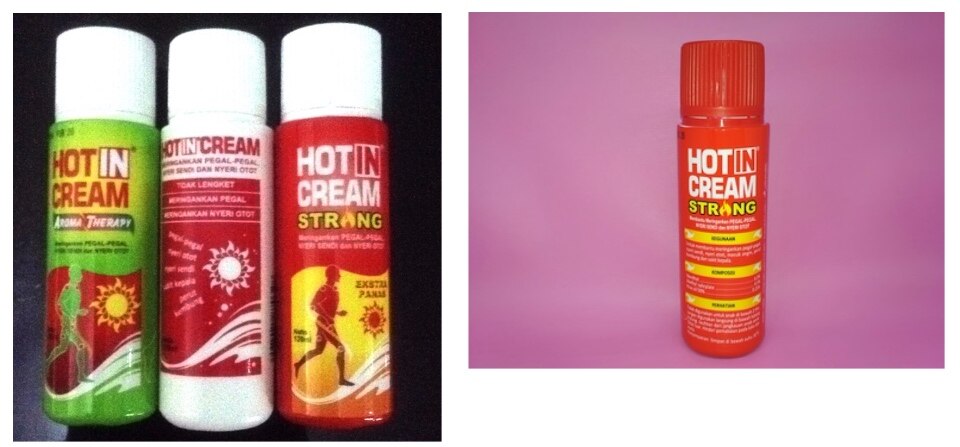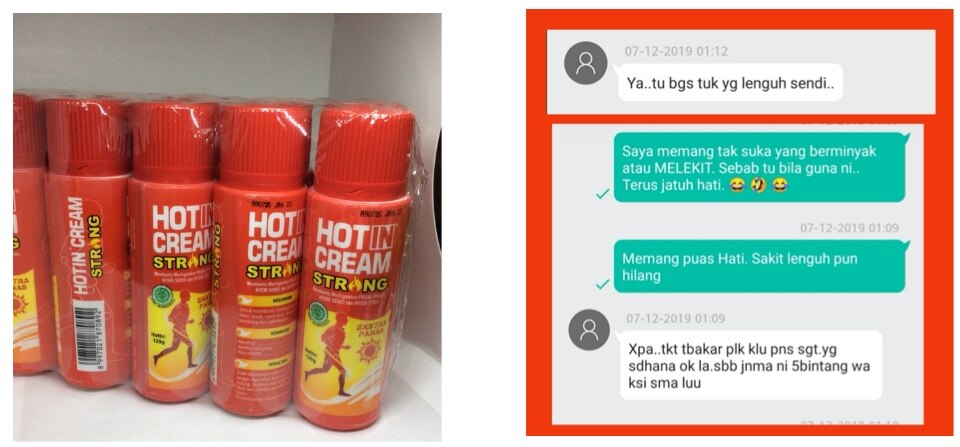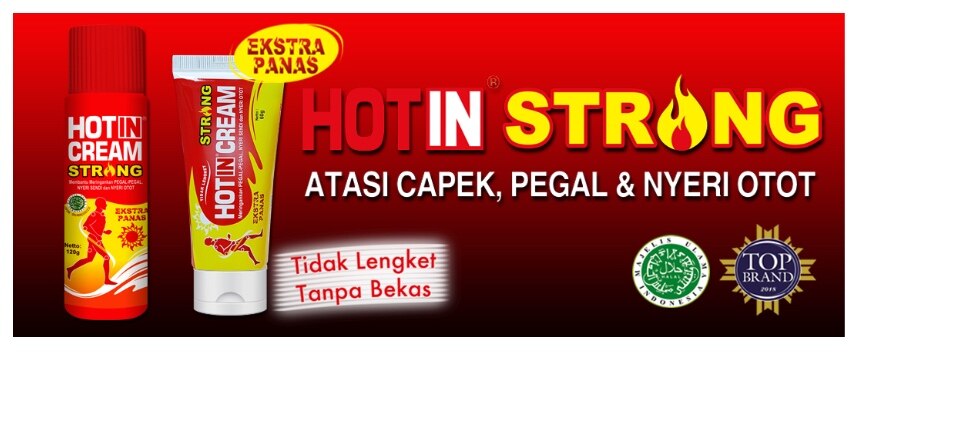 Reviews (3)
view all
back
What's in the box
HOT IN CREAM 120G